First Shot at Tassafaronga
by Bob Arko
24" x 36", Acrylic on Canvas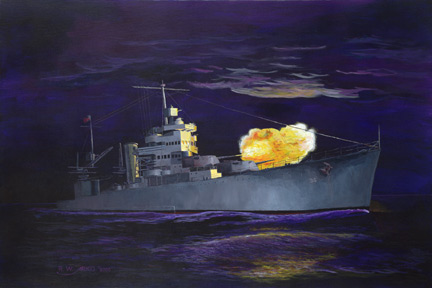 On the night of November 30, 1942, a task force of American cruisers and destroyers intercepted a group of Japanese destroyers and transports off Tassafaronga Point, Guadalcanal, Solomons Islands. The Americans sighted the Japanese first, and the USS Minneapolis fired the first shot of the battle. It was during this battle that Japanese torpedos blew the bow off of the Minneapolis, resulting in a touch and go night of damage control and leading to a long refit at Mare Island via Tulagi, Espiritu Santo, and Pearl Harbor.
My father-in-law, Machinist Mate First Class (later Chief Machinist Mate) Ed Monnens, was a crew member aboard the Minnie during the Battle of Tassafaronga and many of her later engagements. He has commented that the painting captures just the way the gunflashes looked when fired at night, with the reflection off of the clouds. He recalls that they didn't always have time to move the floatplanes to the hangar before a battle, but can't remember whether they did or not at Tassafaronga. I chose to depict them on the catapults in the painting, because to me, that's the way cruisers looked.
U-Boat
by Bob Arko
16" x 20", Acrylic on Canvas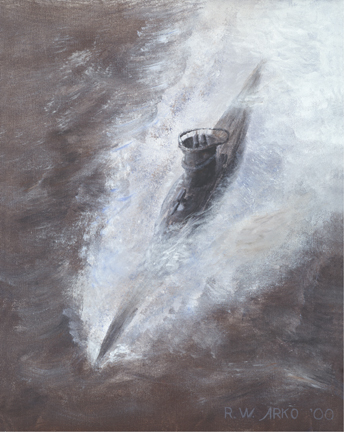 A Type VIIc U-boat in a generic North Atlantic setting. This painting uses a limited palette of ultramarine blue, raw umber and titanium white, with just a smidge of raw sienna here and there.
Fleming Attacks the Mikuma
by Bob Arko
24" x 36", Acrylic on Canvas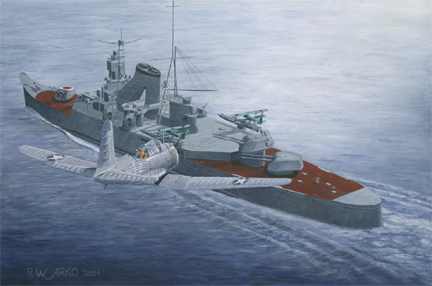 The Mogami Class cruisers were originally designed with 15.5 cm. triple turrets to appear to stay under the Washington Treaty limit of 10,000 tons displacement for cruisers. In reality they exceeded the treaty limit. They were also designed to accept a modified version of the 20 cm. dual turret, and were refitted in 1939/40. This further increased their displacement.
The four cruisers of the Mogami Class made up CruDiv (Sentai) 7 of the Imperial Japanese Navy. CruDiv 7 was assigned as a covering force to the invasion force at the Battle of Midway, and because of their speed operated seperately from the fleet. The Mogami and Mikuma were involved in a collision, which left the Mogami with a bent bow and the Mikuma with a hole above the waterline leaking fuel oil. The Mogami could only make about 12 knots with its damaged hull, so the undamaged cruisers (Suzuya and Kumano) were detached to operate unhindered by the cripples. On June 5, 1942 a series of attacks on Mogami and Mikuma culminated with the attack on the Mikuma by Marine Squadron VMSB-241 led by Capt. Richard Fleming. The attack damaged Mikuma's engine rooms, and left her able to make only about 6 knots. The Mogami and her escorting destroyers left Mikuma to proceed on her own. On June 6 she was attacked and sunk by navy SBDs.
On indefinite loan for display at the Fleming Field Administration Building, South St. Paul, MN.
Copyright Robert W. Arko 2006